"Selfish behaviors are reward driven and innate, wired deeply into the survival mechanisms of the primitive brain, and when consistently reinforced, they will run away to greed, with its associated craving for money, food, or power. On the other hand, the self restraint and the empathy for others that are so important in fostering physical and mental health are learned behaviors – largely functions of the new human cortex and thus culturally dependent. These social behaviors are fragile and learned by imitations much as we learn language".
Dr. Peter Whybrow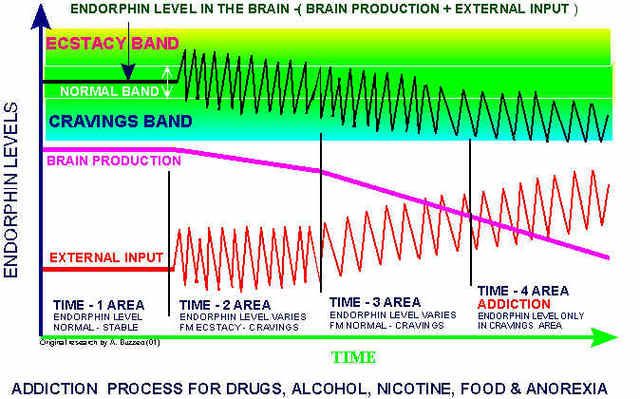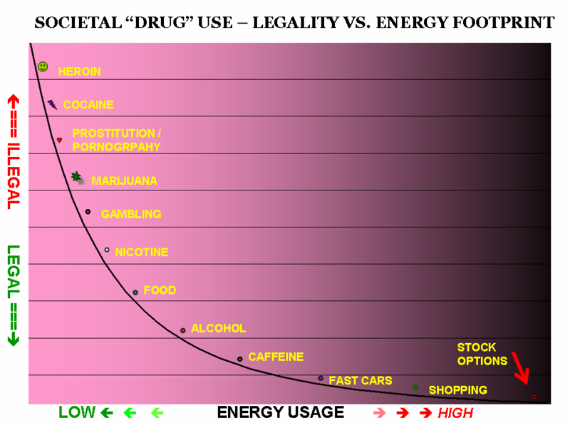 The majority of Peak Oil writing and discussion centers around the upcoming date of an all liquids peak and how steep the subsequent decline rate might be. There's also active debate on how to best replace the coming shortfall in fossil energy with renewable flows. Fewer discussions are about relocalizing a global economy dependent on cheap transportation fuels, and how best to structure a world with lower density energy. Yet fewer still delve into who we are, how we got here, and what and why we use energy, and seemingly want more of it every year. Essentially, most of our energy conversations, at conferences, schools, institutions, and the blogosphere, focus on the means, and not the ends. The ends have generally remained unquestioned. There seems to be an implicit assumption that worldwide energy demand will continue to grow something akin to a natural law, and that solutions should focus on ways to increase supply and/or efficiency of energy. But in an economic system based on self-interest on a finite planet, the true drivers of demand will need to be better understood beyond the microeconomic mantra "price will change behavior".
This post examines our own history on the planet, outlines how the ancient-derived reward pathways of our brain are easily hijacked by modern stimuli, and concludes that in very real ways, we have become addicted to the 'consumptive behaviors' linked to oil. "Traditional" drug abuse happens because natural selection has shaped behavior regulation mechanisms that function via chemical transmitters. Just as an addict becomes habituated to cocaine, heroin or alcohol, the 'normal person' possesses neural architecture to become habituated via a positive feedback loop to the 'chemical sensations' we receive from shopping, keeping up with the joneses (conspicuous consumption), pursuing more stock options and profits, and myriad other stimulating activities that a large social energy surplus provides. In order to overcome addictions, it is usually not enough to argue about which year the drug supply is going to begin its decline. It's a better path to understand the addiction, admit it before one hits rock bottom, and either begin the cold turkey process or become addicted to something else.
LINK